From college athletes to young mothers, our Stay In Shape winners are badass, empowered women who achieve their health and wellness goals with smiles on their faces and acai bowls in their stomachs. For our winners, Playa Bowls isn't just a pit stop between errands or a convenient place to grab food on their lunch break; it is the safe haven that provides community, healing, and the motivation to be their highest, best selves. Our bowls bond their teams, fuel their strong bodies, and heal their past pains. Here's how–
Meet Taylor Waddleton: The Athlete
Nineteen-year-old Taylor is a swimmer for Montclair State University. She is a sophomore, studying family science and human development. Taylor wants to work in education, starting off as a teacher and eventually moving into a leadership role as a school principal.
A woman with that much mind and body strength needs to fuel herself with the right nutrients, and Taylor agrees. "I have Playa Bowls for a good breakfast, and it keeps me full throughout the day."
If you're in need of some health and wellness advice, this aspiring teacher's got your back! "Plan out everything that's on your priority list… I like to have a schedule." Taylor also says, "If your mindset [is to] keep to a schedule, maintain one that lasts 30 days to make it a habit. It will stick with you!"
Playa Bowls is not only a routine part of Taylor's schedule, but it is also a fun place for her team to hang out after practice. Montclair State's swim team has competitions where their fastest teammates win free acai bowls. "Playa Bowls is a place for team bonding. It's great to bring everyone together."
Meet Monica Guzman: The Artist
Monica is a graphic designer and barre instructor who travels a half hour to our Doylestown location to get her Playa on… but she doesn't mind! "I've always been a smoothie-lover. For years, I wanted to live on the beach and open a smoothie store. When I saw Playa Bowls, I knew it was my place. It's got such a beachy vibe, it's eclectic… I could live here!"
Before she found out about Playa Bowls, Monica lost her sister to a five year battle with breast cancer. "My sister passed away at such a young age, and that's what woke me up," says Monica. "I promised my sister that two things:
I would help take care of her daughter
I would] be healthy."
That's when she pursued Barre training, became a part time teacher alongside her graphic design career, and started becoming a Playa Bowls regular.
"You go through your ups and downs with your health and wellness, but when [my sister] passed, I made a promise that I would take care of myself. If I'm not at my best then I can't help others."
Keeping her promise to herself, her sister, and her niece isn't the only reason why Monica chooses to incorporate Playa Bowls into her lifestyle. "Everything is fresh and made right in front of you… [and] it looks so pretty!" "I love that you can get all of your nutrients in one tiny little bowl — one little bowl filled with so much goodness." Monica also believes that, "food is fuel, it's medicine — that's the way people need to view it. It's not about how you look, it's about how you feel."
Monica also found a sense of belonging within Playa Bowls. "[It's] not just the food, but the mission behind [Playa Bowls], and the community that surrounds it. Sometimes, when [you] decide to be healthy, it can feel like you're going against what your friends and your family are doing. But having a community like Playa Bowls where you're not judged and can share what you enjoy — it makes your process easier."
"Sometimes you have to go outside of your immediate circle to find support in something you're interested in or a goal you want to achieve." And, what is that potential next goal Monica wants to achieve? She would love to open that smoothie store on the beach by becoming a Playa franchisee!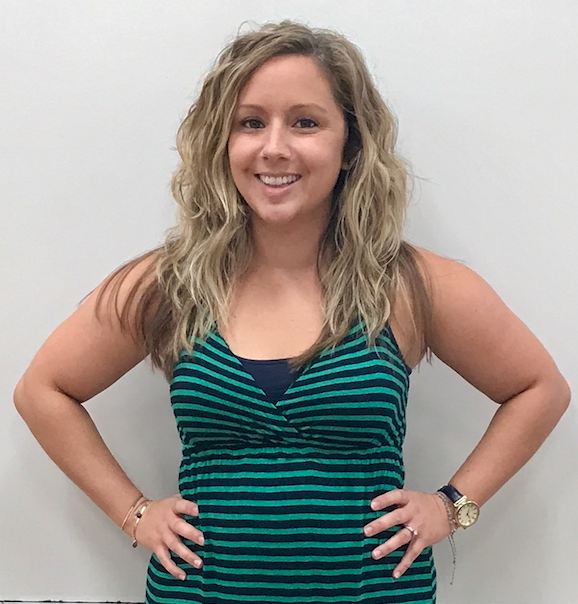 Meet Amy Brenner: The Mother
Mother of a beautiful, 11-month-old baby girl, student pursuing her doctorate at Rowan University and wife of a hard working high school football coach — Amy Brenner does it all!
But, let's go back to last year, a couple of days after her daughter was born, when Amy began to experience postpartum depression. Amy's grandfather passed away, her husband had to work, and Amy had six months of maternity leave. "I had a long leave — I was out for 6 months, but those months felt lonely because I had to constantly be home [with my daughter] and maintain my [breast pumping] schedule." "I didn't know what was happening or why, but I just felt really lonely." "Your first months of being a mother are not what you expect."
The first time Amy went out of the house with her daughter was to visit the Sommerville, New Jersey Playa Bowls to get an acai bowl. "I chose [Playa Bowls] because it's an open space and you can get bowls to-go. It's also pretty to look at and super quick."
To alleviate her postpartum, Amy would dedicate her Fridays to grabbing a cup of coffee at Starbucks, going to Playa Bowls to get her favorite bowl, the nutella loco with blueberries, and then go back home to watch Project Runway. "I would call it my 'Basic B*tch Friday'… can I say that in this interview?!" Amy laughed off that oh, so relatable question. Her laugh is as contagious as her story is inspiring.
Playa Bowls now also helps Amy and her husband to maintain their fitness routines. "I've been having a hard time taking off the baby weight. I got a Peloton, and after my workouts, I'll tell my husband 'let's get a Playa Bowl!'" "I feel better, and Playa Bowls brings me and husband together."